BANK FROM ANYWHERE WITH LABOR CU'S MOBILE APP
Keep connected to your finances in the most convenient way – in the palm of your hands. Our Mobile App* includes enhanced login options, makes mobile deposits easier, and provides a streamlined user experience.
Get Mobile App on Google Play Download Mobile App on Apple Store

Mobile Banking Features
Check account balances
Transfer funds between credit union accounts
Make loan payments
View/pay bills – Must have a Checking Account and be enrolled in Bill Pay to have access to this feature)
Deposit checks – Enrollment in this service is required. See information under Mobile Check Deposit on how to enroll.)
View/download e-statements
Apply for a new loan
Control your cards from anywhere – temporarily lock your card, report a lost/stolen card and see recent activity
Pay Anyone (P2P) – send money directly from your account to anyone, anytime – for FREE

Mobile Check Deposit
Deposit checks** using the Labor CU Mobile Banking App.
Simply snap a picture of your check
Review the deposit amount and click deposit
It's secure, simple, and efficient

Mobile Wallet
Mobile Wallet is available with all the rewards, benefits and security of Labor CU's credit and debit cards. Make payments with a single touch – in-store, online and in-app.
Contactless – Avoid germs with a transaction that is both cashless and minimizes the need to touch shared surfaces.
May help reduce fraud – The data stored in Mobile Wallets is encrypted, meaning your actual card numbers aren't transmitted while making a payment.
Organization – It can help you organize everything from credit cards, membership cards, customer loyalty cards and more!
Saves you time – Pay quickly by holding your phone over the payment terminal and verifying the purchase. Most transactions can be completed in a few seconds.
Shop online or on the go – Forget about typing in card numbers when shopping online from your phone. You can pay for some purchases with your Mobile Wallet.

Pay Anyone
Pay Anyone allows you to send money directly from your Labor CU account to anyone, anytime – for FREE. This is a great way to split a dinner check, pay your rent, send funds to a child at college or even give a cash gift.
Your payment will arrive in 1-2 business days.
First-time users will need to enroll in Pay Anyone using either Labor CU's Mobile App or  Online Banking.
You will be asked to complete enrollment information by accepting a new use/terms agreement and confirming your email address. If an incorrect email is presented, please enter the correct email.
Once you confirm your email address, you may immediately begin using Pay Anyone

Card Control
Labor CU puts you in control of your cards. Temporarily locking your account prevents new purchases but does not cancel your card. Before locking, note the following:
If you lost your card, report it stolen
Your account number will not change
Continue to pay your bill and manage your account
When you successfully lock your card, you will be able to see the locked status with a red lock icon. If you locate your card and want to reactivate it, you can do so
How to Enable Mobile Wallet
In-Store
Please follow these instructions to set up and use your Labor CU Credit and/or Debit Card within the Wallet App on your mobile phone to pay in-store.
Add your Labor CU Credit and/or Debit cards to your the Apple Pay, Google Pay or Samsung Pay App.
Look for the contactless symbol in-store as you check out
Hold your phone up to the symbol on the contactless terminal.
Contactless
To use your Mobile Wallet online and in-app, look for the Apple Pay, Google Pay or Samsung Pay logo* (depending on your phone) when you are ready to complete your purchase. Click to login and pay.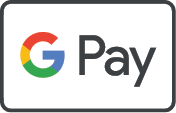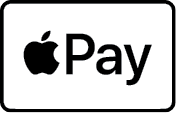 *Apple, the Apple logo, and Apple Pay are trademarks of Apple Inc., registered in the U.S. and other countries. Google Pay is a trademark of Google LLC. Samsung Pay is a trademark of Samsung Electronics Co., Ltd.
How to Make a P2P Payment
Send Money to Anyone
It's easy to send money from your Labor CU account to anyone, anytime for free.
MAKING A P2P PAYMENT USING Labor CU'S MOBILE APP
Follow these steps to make a P2P payment using the Labor CU mobile app.
From the Mobile Banking entry screen, click Pay Anyone.
On the next screen, select Pay Someone. Enter the payment information and create a security question/answer. Click Submit to send the payment.
Only the security question is sent to the recipient in a text/email. For security purposes, you will need to provide the recipient with a special security answer in order for the recipient to verify his/her identity and accept payment. NOTE: The security answer is not case sensitive.*
Important Information Regarding P2P Payments
The recipient must accept the transaction within 10 days. Failure to accept the transaction within the 10 day window will result in an unsuccessful transaction attempt, and another P2P transfer will need to be created.
Once the recipient collects the funds, the money should be deposited into the recipient's account in roughly 1-2 business days. The funds are not withdrawn from the member's account until the recipient accepts the transfer.
P2P Transfer Limits
| | P2P New Member Transfer Limits (Less than 90 days) | P2P Standard Transfer Limits |
| --- | --- | --- |
| Maximum Payment Amount | $500 | $2,500 |
| Maximum Daily Amount | $100 | $5,000 |
| Maximum Monthly Amount | $2,500 | $10,000 |
* The recipient has 3 attempts to accurately answer the security question that they need to answer to receive the funds. Once they have reached the maximum number of attempts, the transaction will be updated as failed, and another P2P transfer will need to be created.
How to Make A2A Transfers
ACCOUNT-TO-ACCOUNT (A2A) TRANSFERS ARE  AVAILABLE!
Make transfers from your Labor CU account to your account at another financial institution with A2A transfers.* This is just one more way we're making it easier to manage your finances.
IT'S SIMPLE TO GET STARTED!
Please complete this online form Account to Account (A2A) Transfer. If you need assistance you may also contact Member Services. Once you have submitted the A2A form, then follow the steps using Online Banking.
HOW TO MAKE AN A2A TRANSFER USING LABOR CU'S MOBILE APP
Follow these instructions to make an A2A transfer using the Labor CU mobile app.
Under Pay & Transfer, select Quick Transfer
Select the To Account, choose Outside Accounts and hit continue.
Confirm Quick Transfer and then you'll be taken to a Quick Transfer Completed page.
*Certain restrictions apply. Please refer to the authorization form for details.
How to Enable Card Control
ENABLE THE CARD CONTROL FEATURE WITHIN YOUR LABOR CU APP
You can manage your credit and debit cards from the Labor CU mobile app.
Once your mobile app is updated, the Card Controls feature will be available
Select Manage My Cards from the "More" menu (You will be required to login to your account)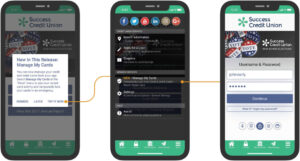 Click "Get Started" to enable this feature. Once you are on the Manage My Cards screen, you will see your cards. Select a card to see recent activity and temporarily lock/unlock your cards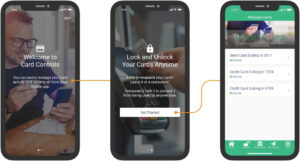 From the Card Summary screen, you can temporarily lock your credit and debit cards associated with an account. This process will be identical for credit and debit cards. The locked status will be shown on both the Card Summary and Manage Cards screens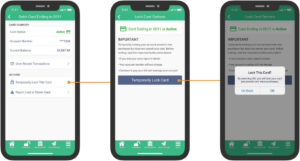 LOST/STOLEN CARDS
If you lose your card or have it stolen, you must call to request having it canceled. A menu option will populate with the correct phone numbers to call depending on what type of card you have. You may also refer to the following list of contacts:
Report a lost/stolen card:
(833) 933-1681
When traveling internationally, report a lost/stolen card:
(812) 647-9794
Note: Any card that is canceled will no longer appear in your Card Control feature.
ID Theft Protection
IDSAFECHOICE – THE TRUSTED NAME IN IDENTITY THEFT PROGRAMS
If you become a victim or suspect you might be a victim of identity fraud for any reason, simply let us know. You do not have to confirm identity fraud before seeking assistance. We will put you in touch with a professional Recovery Advocate who, depending on your identity fraud incident, will:
Perform research to determine the extent of the problem, including a review of all three credit reports (if appropriate)
Assist with the placement of fraud alerts with the three major credit bureaus
Write letters/ make calls on your behalf to dispute fraudulent information
Coordinate with government agencies, financial institutions, creditors, etc. to resolve incidents
Work with law enforcement to help to arrest and prosecute the criminals
Follow up for 12 months after recovery
This service covers all types of identity fraud, even if it is not related to your account(s) with Labor CU. n addition, the identity fraud recovery service extends to cover up to 3 generations of your family members.
Types of identity fraud covered include:
credit/debit card fraud
tax fraud
employment fraud
government documents and benefits fraud
medical fraud, and any other identity fraud recognized by the Federal Trade Commission
Terms and Conditions of Group Identity Theft Detection and Recovery Services
Consumers who are eligible for the group identity theft detection and recovery service ("Services") include all members of Labor Credit Union ("Group Member"). This is known as the "Eligibility Requirement". Labor Credit Union is hereinafter referred to as the "Program Sponsor".
The Services are offered through a group services agreement ("Group Program") with the Program Sponsor and the Service Provider and are extended to Group Members.
Access to the Services ("Benefits Period") begins when the Group Member first meets the Eligibility Requirement, and ends when the Group
Member no longer meets the Eligibility Requirement or when Program Sponsor terminates the Group Program, whichever occurs first. You may find additional information about the Services at www.labor.org.
The Services provide professionals to manage the detection, investigation, and remediation of incidents of identity fraud caused by Identity Theft. "Identity Theft" is defined as fraud that involves the use of any combination of a Group Member's name, address, date of birth, Social Security number, bank or credit/debit card account number, or other identifying information without the knowledge of the Group Member, and such information is used to commit fraud or other crimes. Only Identity Theft incidents that are discovered and reported to the Program Sponsor or the Service Provider during the Benefits Period will be covered by the Services.
The Services may assist the Group Member in seeking reimbursement for funds stolen in the Identity Theft incident, and/or providing assistance for filing a claim for insurance, but do not provide a guarantee of reimbursement for financial losses of any kind arising from the Identity Theft incident.
The Services are non-transferable and non-cancelable by the Group Member and have no cash equivalent. There is no fee for using the Services; however, the account or service to which the Eligibility Requirement is attached may have a fee, based on the provisions of the account/service agreement that the Group Member has with the Program Sponsor.
Neither the Program Sponsor nor its contracted Service Provider can be held responsible for failure to provide or for delay in providing the Services when such failure or delay is caused by conditions beyond the control of the Program Sponsor and its Service Provider.
The successful completion of the Services described herein depends on the cooperation of the Group Member. The Services may be refused or terminated if it is deemed that the Group Member is committing fraud or other illegal acts, making untrue statements, or failing to perform his/her responsibilities as part of the Services, or has obtained the Services knowingly without meeting the Eligibility Requirement.
The Services will not be refused or terminated due to the complexity of an identity theft case.
THE SERVICES DO NOT INCLUDE CREDIT COUNSELING OR REPAIR TO CREDIT NOT AFFECTED BY FRAUD OR IDENTITY THEFT.
The Services are only available to residents of the United States. The Services are performed with agencies and institutions in the United States, or territories where U.S. law applies.
To access the Services, Eligible Consumers can contact the local branch office of their Program Sponsor.
The Services are offered through an Agreement with NXG Strategies, LLC, www.nxgstrategies.com
* A data connection is required for this service. Labor Credit Union does not charge a fee for the use of the Mobile Banking App; however, normal data usage rates may be assessed by your wireless carrier.
**Mobile Check Deposits are subject to verification and not available for immediate withdrawal. All deposits are subject to Labor CU's Funds Availability Policy. Please refer to the Membership & Account Disclosure for more information.